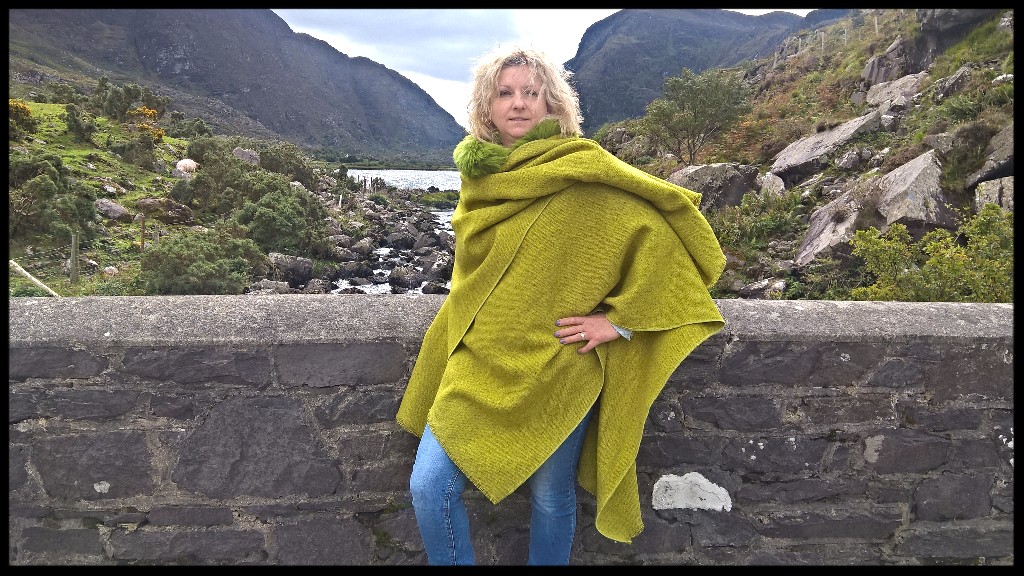 Celtic wrap, ruana with genuine sheepskin collar - lime green - 100% wool - Handmade in Ireland
€150.00
Only 1 remaining
Absolutely One Of The Kind!

Irish tweed wrap, ruana - made by me!

KateIrishTweedStore luxury capes are elegantly stylish and wrap you in warmth. They can be worn in all seasons and can cover a multitude of sins! They are both practical and hard wearing and their versatility means they look fantastic in the town or country and work for both special occasions or for every day wear.

Model on pictures - myself!

- Extremely versatile wrap,
- Can be worn so many ways
- Can be worn 4 seasons a year. Perfect for Springtime chills, Summer evening walks, Autumn strolls or Winter Winds
- Inspired by the style of the Celts in Ireland.
- Available in 2 sizes: S/M or L/XL(see pictures)
- 100% Wool an natural breathable fiber
- Professionally finished with overlocking sewing machine using colour matching thread
- Dyed green genuine sheepskin used for unique and elegant look


Irish tweed sourced at local woollen mills

IMPORTANT NOTICE:
To prove country of origin of fabrics used by me, I can send You a picture with invoice. Just ask!
Big variety of fabric patterns has been achieved by my efforts to source them from a few woollen mills in Ireland.

Pictures taken at Gap of Dunloe , Killarney, co.Kerry, Ireland

Item will be shipped by registered and insured priority post, tracking id will be provided.

Please support creative mom.
Handmade by me for You to enjoy!